Brittanny Anderson
Brittanny Anderson is the chef and owner of Metzger Bar and Butchery and Brenner Pass in Richmond, VA. The former is an ode to classic German Cuisine, and the latter to the French and Italian Alps. At both restaurants she strives to transform classic cuisine with modern presentation and local ingredients. Brittanny is a two time semi-finalist for the James Beard Award for Best Chef Mid-Atlantic.
Sean Clark
A native of Colorado's western slope, Sean Clark joined Steamworks Brewing Company in 1995 as part of the original crew and since that time has become a driving visionary behind the brewpub and its success. He later became the driving creative force behind El Moro Spirits & Tavern, a modern American restaurant with an emphasis on hand-crafted food and beverages located just blocks away from Steamworks in historic downtown Durango. He continues today as the executive chef and managing member of both Steamworks Brewing and El Moro Spirits & Tavern. When not in the kitchen he most enjoys spending his time exploring the wild expanses of the southwest with his wife and two young girls.
Brad Daniels
Brad started his culinary career as a prep cook and bar back in Philadelphia on summer break from the University of Albany , NY. He quickly grew to love the kitchen and upon following graduation began working full time as a line cook in the Catkills Mountains of New Paltz , NY. He enrolled in the Culinary Institute of America in Hyde Park and graduated in 2011 , receiving the Chefs' Selected Highest Achievement Award. Chef Brad has trained in many renowned and diverse establishments including Del Posto, NYC; A&B Marina, Key West , FL; Birdsall House, Peekskill , NY; Osteria & the Vetri Family Philadelphia , PA. Chef Brad currently resides in Boulder , CO where he is the Executive Chef of the Black Belly Market team with Owner Hosea Rosenburg and head butcher Nate Singer.
Nathan Duensing
Since graduating from culinary school in St. Louis over 10 years ago, Nathan Duensing has worked in kitchens in St. Louis, Chicago and most recently Nashville as the executive chef of the Gaylord Opryland Resort. An adopted native of the city, Nathan is especially close with local farmers and is most excited to collaborate with them closely while crafting menus for three culinary concepts at the Thompson Nashville: Marsh House, L.A. Jackson and Killebrew. Throughout his years in the restaurant industry, Nathan has continued to serve as a role model in the kitchen as well as a philanthropist who goes out his way to put his community first.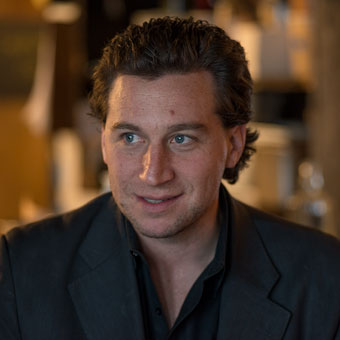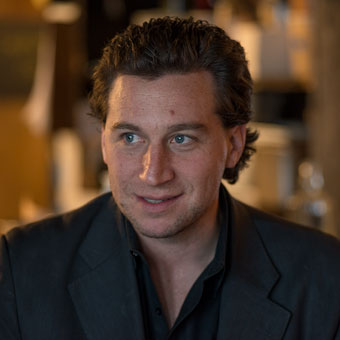 Gavin Fine
A leading restaurateur of the Rocky Mountain region, Gavin Fine is the owner of Fine Dining Restaurant Group in Jackson Hole, Wyoming. After graduating from Cornell University's Hotel and Restaurant Management School, Gavin began his journey into a successful restaurant career with a move to the Tetons. He started his career working in the kitchen of the Snake River Grill with chef Roger Freedman, after which time he and Roger opened Rendezvous Bistro. Years later, the pair opened Bistro Catering, followed by several restaurants and related businesses. Fine Dining Restaurant Group now includes Rendezvous Bistro, Bistro Catering, Il Villaggio Osteria, The Kitchen, Bin22, Bodega, Cream + Sugar artisan ice cream and Bovine + Swine craft sausages.
Michael Fiorelli
Michael Fiorelli is executive chef at Love & Salt, an Italian-inspired restaurant in Manhattan Beach that has garnered critical acclaim for Fiorelli's California-centric interpretations of Old World classics. Since opening the restaurant in 2014 with owner Sylvie Gabriele, Love & Salt has received three-star reviews from Los Angeles Magazine and LA Weekly, and was named one of New York Observer's top twelve LA openings openings of the year. A seasoned chef with extensive experience in some of the country's top kitchens, Fiorelli's culinary resume includes stints at the Greenbrier Resort in West Virginia, the Inn at Little Washington in Virginia, Mark's City Place in West Palm Beach, Simon LA in Los Angeles, and mar'sel at Terranea Resort in Rancho Palos Verdes, California.
Mike Friedman
After graduating at the top of his class at the Culinary Institute of America, Michael Friedman began working for Jose Andres at ‪Zaytinya, in Washington, D.C. Drawing upon his culinary experiences traveling through Italy, Greece, Turkey and northern Africa, Friedman opened up the Red Hen in 2014, offering seasonal, Italian-influenced dishes interpreted with Midatlantic ingredients. In 2016 he opened All-Purpose Shaw, serving antipasti, classic Italian American dishes and deck oven-fired pizzas in the heart of downtown D.C. As a New Jersey native, All Purpose became a love letter to Friedman's youth. Shortly after its opening, All-Purpose was named D.C.'s top restaurant by the Washington Post. In 2017, Friedman was recognized as a James Beard Award semifinalist.
Kyle Johnson
A Las Vegas native, Kyle Johnson began his career at the acclaimed restaurant Alize at the Palms Hotel in Las Vegas, working under renowned chefs Andre Rochat and Jacques Van Staden. He is currently executive chef at Michael Mina's Bourbon Steak in Los Angeles. Johnson was the executive chef of Paramour, a modern American restaurant at the Wayne Hotel in Philadelphia, and prior to that, he was the opening chef de cuisine at the farm-to-table concept Local 127 in Cincinnati, Ohio. When he's not in the kitchen, Kyle is still focused on food and is excited to be a part of the thriving Los Angeles culinary scene.
Bruce Kalman
Bruce Kalman's culinary career began in his hometown of Paramus, NJ, in a local family-owned pizzeria. After rising through the ranks of local kitchens, Kalman moved to Chicago to serve as executive chef for restaurants including Okno, Green Dolphin and Coco Pazzo. In 2011 he helped launch Santa Monica's Misfit, and later joined West Hollywood's the Churchill. His success encouraged him to debut Bruce's Prime Pickle Company in 2013. Kalman has gained recognition from James Beard, with a nomination for "Rising Star Chef," and has appeared on the Food Network to earn a "Chopped" championship title. Currently, Bruce is a contestant on Top Chef and is opening his newest project, the House of Machines, in the Arts District in LA.
Kyle Mendenhall
Kyle Mendenhall is chef/partner at Arcana Restaurant, which serves locally sourced Colorado ingredients prepared using traditional techniques of the American Southeast. A former classical musician turned chef, he now works to define Colorado cuisine built on heritage, relationships and preservation. Kyle has worked closely with the Brewers Association consulting on craft beer and food related events, the non-profit Conscious Alliance and several outdoor related publications and businesses. He loves hiking and foraging in Colorado with his wife and two growing boys.
Lamar Moore
Chef Lamar Moore was born and raised in Chicago and holds a degree in culinary arts from Le Cordon Bleu. In his 15-year career Moore has worked in sports stadiums, restaurants and hotels, including the Hotel Chicago, part of Marriott's Autograph Collection. As a member of the American Culinary Federation, Moore has connected with other professionals as well as mentored aspiring chefs. As a keynote speaker at the National Restaurant Association Show, Chef Lamar provided over 1000 future chefs with insight, guidance and direction. Moore takes pride in the relationships he has developed over the years and always does business with local farmers who produce the freshest ingredients. He has been featured in many media outlets including Zagat News Weekly, PlateOnline.com and the Chicago Tribune, just to name a few.
Kevin Nashan
Born in Chicago and raised in Santa Fe, NM, Kevin Nashan spent as much of his childhood in a restaurant as he did in the classroom. For 27 years, his family owned La Tertulia, a beloved northern New Mexican restaurant started by his Hispanic grandfather. With a wide variety of culinary experiences in the U.S., France and Spain, Nashan still holds the New Mexican cuisine of his childhood close to his heart. He won a James Beard Award for Best Chef: Midwest in 2017, after being a finalist in the category in 2014 and 2016 and a five-time semifinalist. He has cooked for President Barack Obama, and won the 2013 Cochon 555 Barbecue competition in St. Louis. In 2014, he competed in Esquire Network's show "Knife Fight."
Timothy Rattray
Tim Rattray, a native San Antonian, has worked in renowned restaurants across the nation, including Le Cirque, Rick Bayless' Xoco, Salt & Time, Kocurek Family Artisanal Charcuterie and Tyson Cole's Uchiko. In 2012, Rattray opened the Granary 'Cue & Brew in San Antonio. Since then, the Granary has made its mark by bridging the gap between traditional Central Texas pit-style barbecue and inventive, chef-driven cuisine. Rattray's creativity, commitment to excellence, and use of humanely raised meats has added a fresh take to the Texas barbecue scene. The Granary has twice been named one of Texas Monthly's top 50 barbecue joints in Texas, has been called "the future of barbecue" by Esquire and one of the "changing faces of Texas barbecue" by Food & Wine.
Paul C. Reilly
Paul C. Reilly is the co-owner/executive chef of Denver's beast + bottle, which serves local, farm-focused food, and Coperta, a rustic Southern Italian-inspired restaurant. Both beast + bottle and Coperta were named to 5280 Magazine's Top 25 Restaurants list in 2017. Drawing from his upbringing in New York's Hudson Valley, Reilly is committed to sourcing only the highest quality ingredients. In 2012, he won the prestigious Jean-Louis Palladin Professional Work/Study Grant to study responsible seafood practices up and down the coast of Maine. Reilly is an alumnus of the James Beard Foundation's Chefs Boot Camp and currently serves as a board member for Boulder County Farmers Markets.
Alex Seidel
Wisconsin native Alex Seidel began his culinary career as sous chef at Racine's Main Street Bistro. He moved to Denver in 2002 and became executive chef at restaurateur Frank Bonanno's fine-dining flagship, Mizuna. Seidel left Mizuna to launch his own restaurant, Fruition, which opened its doors in 2007. Zagat rated Fruition the number one restaurant in Colorado, an honor it has held every year since opening. Food & Wine magazine named Seidel a Best New Chef in 2010. In 2018, he was named James Beard Foundation's "Best Chef Southwest." When not cooking at Fruition, Seidel tends to his 10-acre farm in Larkspur, CO. The ricotta from Fruition Farms Creamery won a first place award from the American Cheese Society in 2011.
Jeremy Sewall
Jeremy Sewall's career began in Maine at the Relais & Chateau White Barn Inn. He then moved to Europe, working for Albert Roux in London and Amsterdam before returning to Boston and a position at L'Espalier. In 2000, Jeremy moved to Lark Creek Inn in Larkspur, Calif., where he was nominated as a Rising Star Chef by the James Beard Foundation. In 2014, Jeremy released his first cookbook, James Beard Award-nominated the New England Kitchen: Fresh Takes on Seasonal Recipes, with co-author Erin Byers Murray. In 2016, Jeremy co-authored a second book, Oysters: A Celebration in the Raw, with Marion Swaybill. As current partner and executive chef at Row 34, Les Sablons and Island Creek Oyster Bar, Jeremy is dedicated to celebrating the diversity of New England seafood.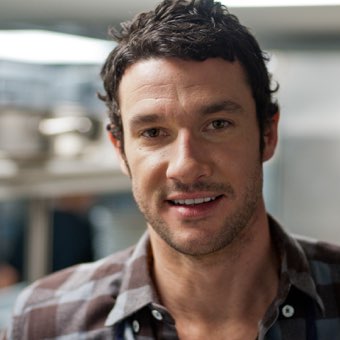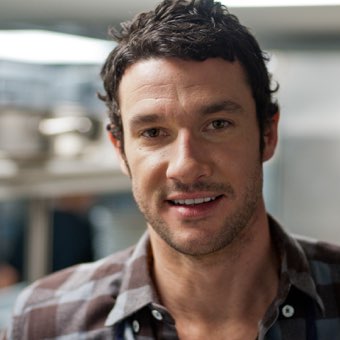 Sam Talbot
Sam Talbot is a chef, author, philanthropist and television personality based in Brooklyn, NY. Diagnosed at a young age with Type 1 Diabetes, Talbot lives every hour with a deep understanding of the impact of food on life and life on food. Talbot is the founding executive chef of the Surf Lodge in Montauk, NY, and during his time there it became a nationally acclaimed culinary destination. He has gone on to work on many additional endeavors all while championing his philanthropic causes and publishing his first book, The Sweet Life: Diabetes without Boundaries (Rodale). He was a semi-finalist on season two of Bravo's Top Chef and was voted "fan favorite" and subsequently named one of People Magazine's "Sexiest Men Alive" in 2012.
John Tesar
Executive chef and partner John Tesar takes a classically trained chef's approach to steakhouse cuisine at Knife Dallas, a destination for inhouse dry-aged steaks. Prior to opening Knife, Tesar enjoyed a lengthy career in fine dining. With classical French training from Paris's La Varenne Ecole de Cuisine, Tesar worked at Westhampton's Club Pierre for six years until ultimately purchasing it. He furthered his craft throughout the 1990s at iconic New York restaurants including 13 Barrow Street, 44 & Hell's Kitchen, Vine and Supper Club—where he worked alongside Anthony Bourdain. Tesar is a four-time James Beard "Best Southwest Chef" semifinalist, two-time contestant on Bravo's "Top Chef" and winner of Food Network's "Extreme Chef."